The clothing category is a very broad one. It can include: Aprons, cloth diapers, dresses, gloves, hats & hair accessories, jackets, pants, scarves, shirts, shoes, etc.
Sleepwear (or loungewear) for children up to size 14 has a whole other set of regulations, but does follow the same path as regular (daywear) clothing.
The great thing for regular clothing is that there isn't a whole lot to be done for most of these items since there are specific exemptions from certain testing and certain labeling for everyone.
---
Testing
Exemption from Flammability testing for all plain surfaced materials that are over 88.15 gsm. 16 CFR Part 1610

Think: Jerseys, knits, quilting cottons, yarn for knitting/crocheting, seersucker, Liverpool, waffle, ribbed, etc.

Exemption from Flammability testing for hats, gloves, and shoes if hat does not cover neck or shoulders, gloves are not longer than 14", and shoes are not attached to main garment. 16 CFR Part 1610
Requires testing to Flammability for all raised surfaced materials not made only of the (6) exempted fibers. 16 CFR Part 1610

Acrylic, Modacrylic, Nylon, Olefin, Polyester, Wool
Think: Corduroy, Flannel, Fleece, French Terry, Sherpa, Velour, Velvet, etc.
Double Brushed Polyester has been deemed as plain surfaced by CPSC agents.
All non-fabric components (ex. metal, plastic, treated wood) must be tested for Total Lead Content under CPSIA 2008 Sec 101a and 16 CFR Part 1500.
All treated or coated components (ex. vinyl, leather) must be tested for Total Lead Content CPSIA 2008 Sec 101a and 16 CFR Part 1500.
All surface coatings (paint, lacquer, sealant, anything that can be scratched off the surface of the component) must be tested for Lead in Paints and Other Similar Surface Coatings under 16 CFR Part 1303.
As a registered small batch manufacturer, you do not necessarily have to test for Flammability, Total Lead Content, or Lead in Surface Coatings. You can rely on recent information from your suppliers instead. "Recent" means that the information is no more than a year old.
A statement of recent passing testing for Flammability or Total Lead Content is allowed.
A recent lab report for Lead in Surface Coatings testing is required.
---
Labeling
All labeling is to be permanent so that it lasts the useful life of the product. Only fiber content and manufacturer identity can alternatively be securely attached so that it arrives to the final consumer (think like a price tag).
Country of origin 19 CFR Part 134
- "Made in USA of imported materials" if materials are from all over
- "Made in USA of materials from [Country]" if materials are from one location
- "Made in USA" if textile components are all made in USA as well
Care information 16 CFR Part 423
- Washing - Hand, Machine, Spot? Temp?
- Bleach Warnings - No, Chlorine only, etc.
- Drying - Hang, Lay Flat, Tumble? Temp?
- Iron Warnings - No, Low, Inside Out, etc.
- Other warnings - Like colors, remove solids, etc.
Manufacturer or private labeler identity 16 CFR Part 303
Fiber content 16 CFR Part 303
- Sectional disclosure (body, peplum, sleeve, filler, etc.)
- Listed in descending order (95% Polyester, 5% Spandex)
"Lycra® Spandex" is a branded spandex/elastane. Do not use the name Lycra® unless you are certain that what you have is actually Lycra®.
Permanent labels required for children's products 15 U.S.C. §2063(a)(5)
- Manufacturer or Private Labeler identity
- Location of production
- Date of production
- Unique
batch, run number, or other identifying characteristic (to assist in a recall if necessary)
Location of production, date of production, and unique batch may all be coded such as 0222TN01 for a product made in February 2022, made by a sewing contractor in a specific city in Tennessee. If you are the only person creating the product, location coding is not required.
For children's products that are too small to be permanently labeled, or products where function would be adversely affected, labeling may be placed on a card or packaging (as well as online listings)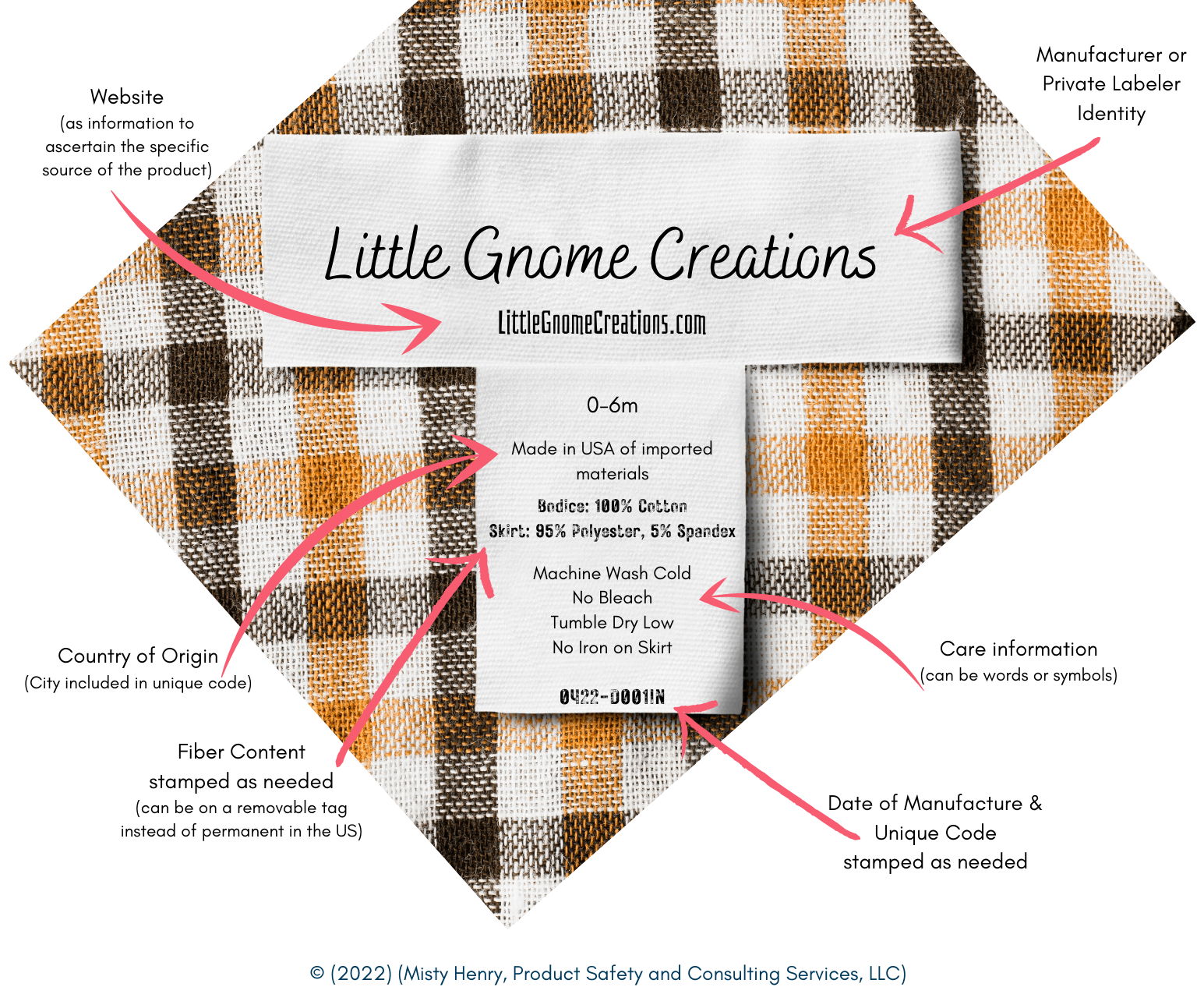 ---
Documentation of Compliance
All children's products must have a Children's Product Certificate created and maintained in the manufacturer's records. 16 CFR Part 1110
- Description of the product
- Citation to all product safety rules that must be followed for this product
- Identification of manufacturer or importer (your business name and contact information)
- Identification of individual maintaining compliance information (your personal name and contact information)
- Date & Place of manufacture (month, year; City, ST, Country)
- Date & Place of testing, supplier statement information, exemption citations
- Identify any 3rd-party lab that conducted testing if applicable & Small Batch Manufacturer registration number if applicable.
I offer done-for-you certificate write ups
here
.
More Assistance
If this was a lot, don't worry, it is and I understand that! That's why I have created a digital book that walks you through the process, step-by-step, in a more conversational tone.
Get your digital book
here
.
Join my free Facebook group, US Product Safety Compliance.
The Makers Community membership.
Free Checklist.
Free basic product safety course.
---
Support the information